Our Lady of Guadalupe, Mexico December 12, 1531
This miraculous image of Our Lady of Guadalupe is often referred to as a pro-life image because her image helped stop the human sacrifice by the Aztec people at that time and perhaps for these times. The miraculous image of Our Lady gave meaning to the people to reveal God's plan and brought 9 million souls into the Catholic Church in a just a few short years!
Approved Apparitions of the Church
" How Our Mother has interceded throughout history!"
"The earliest known claim was from St. James the Greater who saw the Virgin Mary while he was in preaching on the banks of the Ebro River in Saragossa, Spain in 40 A.D. Today, apparition reports occur more frequently. Some scholars estimate the total number of apparition claims throughout history to be approximately 2,500 (with about 500 of those coming in the 20th century alone). " Entire article here Miracle Hunter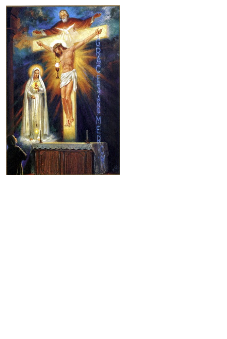 Our Lady of Fatima, Portugal 1917, is perhaps the most important apparition of the 20th Century. The miracle of the sun was witness by 70K and was one of the biggest miracles of our time! In Sr. Lucia's last vision of the Holy Trinity below, Our Lady asked for the consecration of Russia and to pray and make sacrifices for this request. She also asked for devotion to her Immaculate Heart so to make reparation for ungrateful men. The Devils Final Battle
Our Lady of La Salette, France- September 19, 1846
Six days I have given you to labor, the seventh I have kept for myself; and they will not give it to me. It is this which makes the arm of my Son so heavy. Those who drive the carts cannot swear without introducing the name of my Son. These are the two things which make the arm of my Son so heavy. More at The Pope In Red
Our Lady of Kibeho was authentic of the anticipated vision of the Rwanda genocide that occurred 12 years later, in 1994. On August 19, 1982, the seers saw a river of blood, people who were killing each other, abandoned corpses with no one to bury them, a tree all in flames, bodies without their heads. This prophecy seemed at first incredible, but about a decade later, in the spring of 1994, a horrifying civil war erupted in Rwanda, and, in just three months, an estimated 500,000 to one million were killed, many beheaded by machetes and dumped into the Kagea River (river of blood). More
Our Lady of La Conquistadora est. 1625 America's Oldest Madonna
She arrived in Santa Fe, New Mexico in 1625, brought here from Spain by a Franciscan Missionary superior. She was enthroned in the church in Sante Fe and brought peace to settlers and natives alike as Queen and Patroness of the ancient kingdom of New Mexico. Go to the video to get the rest of the history on Our Lady of La Conquistadora!
Edit to add your Embed Code.