Join the Mission for the Love of God Worldwide praying the Sorrowful Mysteries of the Holy Rosary 7 pm Sundays for the world Connect with us Live through: Mission's Facebook Page Live here
Video below is the founder of the Mission, John Rick Miller and his explanation of the importance of the Sorrowful Mysteries of the Holy Rosary.
Making Reparation to the Immaculate Heart of Mary
In the Five First Saturdays Devotion

"Look, My daughter, at My Heart, surrounded with thorns with which ungrateful men pierce Me at every moment by their blasphemies and ingratitude. Do you, at least, try to console Me and announce in My name that I promise to assist at the moment of death, with all the graces necessary for salvation, all those who, on the first Saturday of five consecutive months shall confess, receive Holy Communion, recite five decades of the Rosary, and keep Me company for fifteen minutes while meditating on the fifteen mysteries of the Rosary, with the intention of making reparation to Me."
(Revelation of Our Lady of Fatima to Sr. Lucia)
For the first time, the relics of St. Bernadette Soubirous have come from Lourdes, France, to tour the United States. Her relics will be available for veneration at more than 30 churches and shrines from East Coast to West Coast, and in between.
On this U.S. pilgrimage, St. Bernadette's relics, which include part of her rib, are contained in a large reliquary crafted by master craftsmen of religious artistry at Maison Granda workshop in Spain in 2019.
St. Bernadette's Relics will be visiting the Cathedral of St. John the Evangelist, Lafayette, LA July 12-14 HERE
St. Bernadette Reliquary Touring the U.S.A. ( Above)
St. Bernadette's Incorruptible Body
Novena to Saint Bernadette Soubirous
Dear Saint Bernadette
Chosen by Almighty God as a channel of His Graces and Blessings,
and through your humble obedience to the requests of Our Blessed Mother, Mary,
you gained for us the Miraculous waters of Spiritual and physical healing.
We implore you to listen to our pleading prayers
that we may be healed of our Spiritual and physical imperfections.
Place our petitions in the Hands of our Holy Mother,
Mary, so that She may place them at the feet of Her beloved Son,
Our Lord and Saviour Jesus Christ,
that He may look on us with mercy and compassion: (Make Petition) Get more prayers here
Discover "The Mass of the Ages"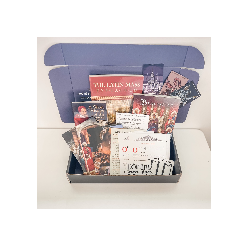 Solemnity of the Most Holy Body & Blood of Christ (Corpus Christi) liturgical solemnity celebrating the Real Presence of the Body & Blood, Soul & Divinity of Jesus Christ in the Eucharist. The celebration began in 1264 after recognizing the Eucharistic Miracle of Bolsena and the input of St. Thomas Aquinas, Doctor of the Church.
The song played during the video "Pange Lingua Gloriosi Corporis Mysterium is a Medieval Latin hymn written by St Thomas Aquinas ( 1225-1274)