Making Reparation to the Immaculate Heart of Mary
In the Five First Saturdays Devotion

"Look, My daughter, at My Heart, surrounded with thorns with which ungrateful men pierce Me at every moment by their blasphemies and ingratitude. Do you, at least, try to console Me and announce in My name that I promise to assist at the moment of death, with all the graces necessary for salvation, all those who, on the first Saturday of five consecutive months shall confess, receive Holy Communion, recite five decades of the Rosary, and keep Me company for fifteen minutes while meditating on the fifteen mysteries of the Rosary, with the intention of making reparation to Me."
(Revelation of Our Lady of Fatima to Sr. Lucia)
St. Bernadette's Incorruptible Body
Discover "The Mass of the Ages"
HOLY FACE OF JESUS PRAYER, TO OFFER THE HOLY FACE OF JESUS TO GOD THE FATHER TO APPEASE HIS JUSTICE AND DRAW DOWN MERCY UPON US
Get more here from the HOLY FACE DEVOTION
Seven Sorrows of the Blessed Virgin Mary September 15th
Our Lady of La Salette, Apparition September 19,1846
Our Lady has a special and ugent message for us then and now! Get the full message here from The Remenant Newspaper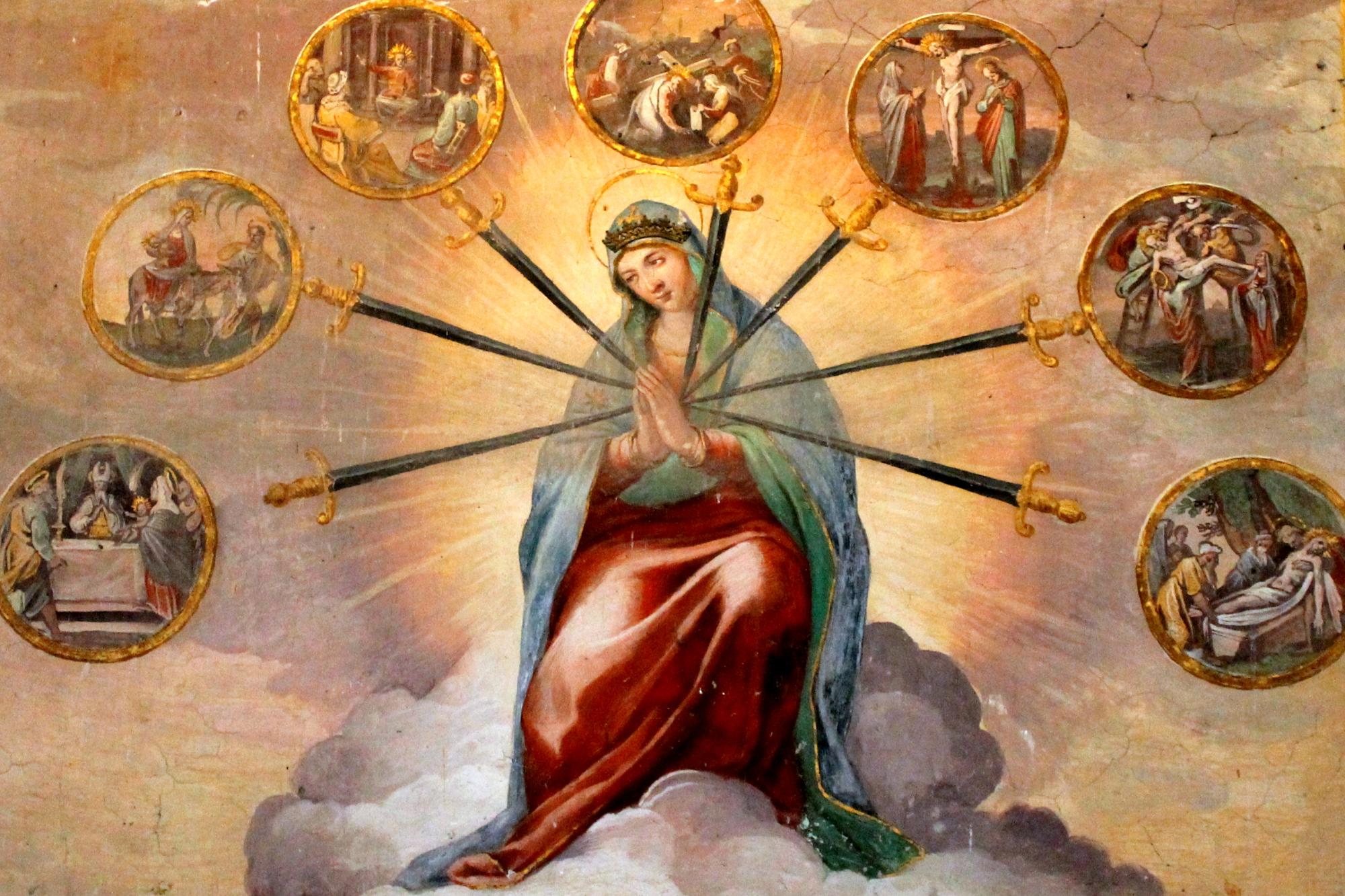 At Our Lady's request, the seven founders made the object of their Order, meditation on the pains suffered by Our Lady in the Life, Passion and Death of Her Son, Our Lord Jesus Christ, and undertook promoting this devotion of meditating on the Seven Sorrows of Our Lady to all Catholics, which became the foundation of the Rosary of the Seven Sorrows of the Blessed Virgin Mary. There are two days which The Feast of Our Lady of Sorrows is celebrated, on Friday before the Good Friday, and September 15th.
Because of the Seven Sorrows which pierced Her maternal heart, the Sorrowful Mother is often represented either as stand­ing beneath the Cross, or as holding the lifeless body of Jesus on Her lap, Her heart transfixed by seven swords, as foretold in the prophecy of holy Simeon at the pres­entation: "And thy own soul a sword shall pierce." (Luke 2:35). History and the Promises of Our Lady of Sorrows here at Our Lady of Sorrows
Edit to add your Embed Code.
Edit to add your Embed Code.
Sermon By St. Augustine on the Nativity of Blessed Mother (below)
Nativity of the Blessed Mother, September 8th
Above Photo-Statue of St. Anne and the Blessed Virgin Mary as a child in St. Martin De Tours Catholic Church, St. Martinville , La